Working in Oklahoma and Mankato
Tuesday, December 27, 2016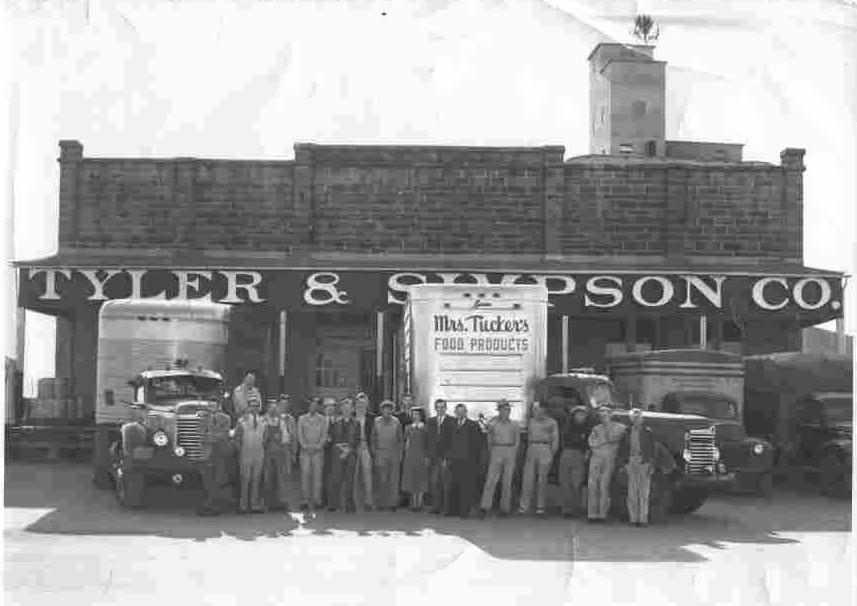 Eugene talks about driving to Oklahoma with his brother and living there for a time. He worked as a cook at a Tee Pee Drive-in and later stocking groceries at Tyler & Simpson. Then taking the bus back to Minnesota and delivering groceries for Bob & Dean Delivery, when he met Ramona Buckley who later became his wife.
Hee-pee Tee-pee
I wasn't able to find any information specifically about "Hee-pee Tee-pee" but I did find a website that documents a drive-in theater called the "Tee Pee Drive-IN" that was built in 1950, though I am pretty sure grandpa is talking about a drive-in restaurant.
Tyler & Simpson, Co.
The photo above is one that I found while attempting to research some of the information grandpa mentions in this clip. Tyler & Simpson, Co. was a large company with, I believe, many locations so it is unlikely that any of the people in the photo are grandpa. I also don't know when this photo was taken so it probably doesn't line up with his time line either.
I did happen across an article from The Oklahoman published in 1989 which talks about the company filing for bankruptcy.
Bob and Dean Delivery
Internet searches for "Bob and Dean" delivery turned up nothing. I am sure it was a smaller, local company that went out of business or was acquired after it's proprietor retired or passed away.
Mankato Flood 1951
I found this article which talks about the flooding in Mankato, MN in 1951. The article confirms what grandpa said about a very snowy winter followed by floods. According to the article the flooding caused over $3 million in damages, somewhere around $23 million in todays money.